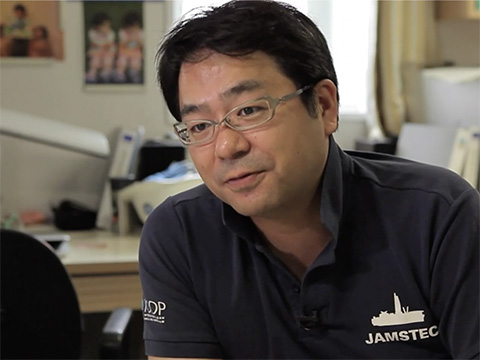 Fumio Inagaki awarded Copernicus Medal 2019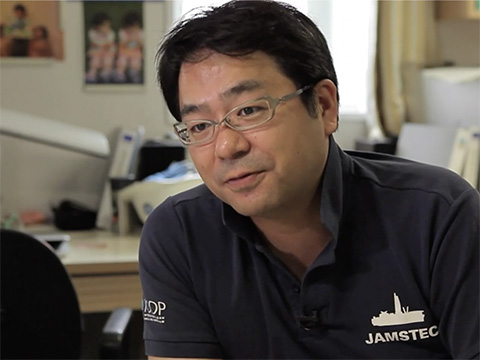 13 May 2019
The Copernicus Medal 2019 has been awarded to Dr Fumio Inagaki for ingenious, pioneering work on the geomicrobiology of ocean floor bacteria, and international leadership in the collaborative study of subsurface seafloor habitats, especially through engagement in scientific ocean drilling projects and the support of the academic exchange of young scientists.
Fumio Inagaki is a principal senior scientist of Japan Agency for Marine-Earth Science and Technology (JAMSTEC). His research focuses on geomicrobiology and biogeochemistry of the ocean, with special interest of the deep subseafloor biosphere. He uses scientific ocean drilling and the state-of-the-art transdisciplinary approaches to explore the abundance, distribution, diversity and functionality of deep subseafloor microbial communities and the biogeochemical carbon cycling. Numerous international students, post-docs, scientists, technicians and drilling engineers have been involved in scientific expeditions towards understanding new frontiers of the deep biosphere beneath the ocean. His current research interest includes adaptive evolution and long-term survival strategy of subseafloor life, geosphere-biosphere interactions associated with plate tectonics and mantle dynamics, and planetary habitability on Earth and other celestial bodies. To date, his research also includes applied science for developing sustainable carbon and energy systems—geobiotechnology. He has published more than 180 peer-reviewed international articles and book chapters, and significantly contributed to the academic exchange and encouragement of young scientists in the field of geosciences. In 2015, Fumio was awarded the Asahiko Taira International Scientific Ocean Drilling Research Prize (Taira Prize) by the American Geophysical Union (AGU) and the Japan Geoscience Union (JpGU). More information can be found at: https://www.fumio-inagaki.com
The Copernicus Medal recognizes individuals with outstanding and innovative scientific achievements in geo-, planetary, or space sciences who have also accomplished fruitful work for the promotion of international collaboration in the sciences. It is dedicated to scientists in the midst of their career.
The Copernicus Gesellschaft e.V. is a non-profit society, registered in Germany, and aims to promote international collaboration in the geo- and space sciences. The society was founded in 1988 by directors, scientists, and administrative staff of the Max Planck Institute for Aeronomy (today Max Planck Institute for Solar System Research – MPS). The Copernicus Gesellschaft e.V. is the exclusive partner of the Copernicus GmbH, Meetings & Open Access Publications.
More information on the Copernicus Medal.
Contact Media and Communications.