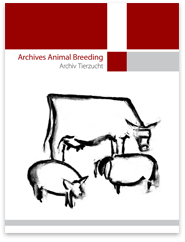 Archives Animal Breeding now published by Copernicus Publications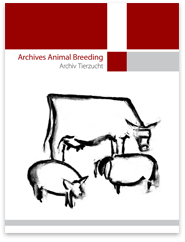 16 January 2015
The open-access journal Archives Animal Breeding (AAB) is now published by Copernicus Publications on behalf of the Leibniz Institute for Farm Animal Biology (FBN) in Dummerstorf, Germany.
The focus of the international journal is scientific progress in farm animal biology. AAB already has a Thomson Reuters Impact Factor and will be publishing its 58th volume this year. With the move to Copernicus, the peer-reviewed journal also changed its former title Archiv Tierzucht to Archives Animal Breeding.
"We approached Copernicus because we wanted professional editorial service to make life easier for our editors and authors", says Gunther Viereck, Managing Editor of Archives Animal Breeding. "We also hope that being published by a renowned publisher such as Copernicus will increase the visibility of our journal even more."
Xenia van Edig, Business Development Manager at Copernicus Publications, adds: "We are glad that we can assist with the publication of the journal. With AAB we will grow stronger in the life sciences. It is great to collaborate with another institute from the Leibniz community."
AAB authors will also benefit from Copernicus' services such as English copy-editing by native speakers, professional production and fast publication of manuscripts, immediate distribution of the publication and its metadata to scientific databases, indices and search engines, as well as full-text XML for all new articles.
Visit Archive Animal Breeding.
More information on the Leibniz Institute for Farm Animal Biology (FBN).
Contact Media and Communications.